People worldwide are taking precautions for the Coronavirus/Covid-19 pandemic. Celebrities, including the Kardashian's,  are posting on social media to share their thoughts, prayers, and helpful tips. 
Reported by People Khloe Kardashian shares a prayer with her followers on Instagram. The third-born Kardashian sister quoted, "Make us invisible to the virus or whoever contains it, help those who are sick and care of the most unprotected."  She also posts, "Now more than ever, it's so important to take care of yourself and those around you."
Throughout the years, the Kardashian-Jenner fandom has followed the family through 17 Seasons of Keeping Up with the Kardashians. The sisters have not hid their faith. Their matriarch, Kris Jenner, claims that with faith her family got through another hard time. Read about it here. 
On the date of this post, The New York Times reported 1, 875 confirmed cases of coronavirus and 41 deaths. Khloe's post also came two days after her sister, Kim Kardashian West, went to Instagram stories after consulting with a doctor. Kim's concern was that Khloe had a cough. 
Prayer With a Public Service Announcement
The Revenge Body star went on to share safety guidelines.  Full details are on CDC's website. Some points to preventing the spread of Covid-19 are to wash your hands frequently. They say to avoid touching your eyes, nose, or mouth with unwashed hands. Also, avoid close contact with people who are sick.
The CDC states that the virus is spread from person-to-person contact. Furthermore the CDC defines close contact as "anyone within six feet." Also, if you are not sick you do not need to wear a face mask. The CDC recommends face masks for persons who are sick.
Stories from other Kardashians
Mirror reports that the Kardashian-West children are "going stir crazy in self-isolation." Thanks to a series of Instagram stories, Kardashian fans know that Kim has not been taking the coronavirus pandemic lightly and is following the government's health advice.
This may not be as comforting of a sentiment as the prayer shared by Khloe. However, Showbiz CheatSheet states that Kim believes that author and psychic Sylvia Browne predicted the pandemic in her book End of Days: Predictions and Prophecies About the End of the World, published in 2008.
It seems that Kim isn't the only Kardashian sister to take notice of the prediction. Kourtney shared a Facebook screenshot showing the passage. Kim tweeted a photo also showing the End of Days passage.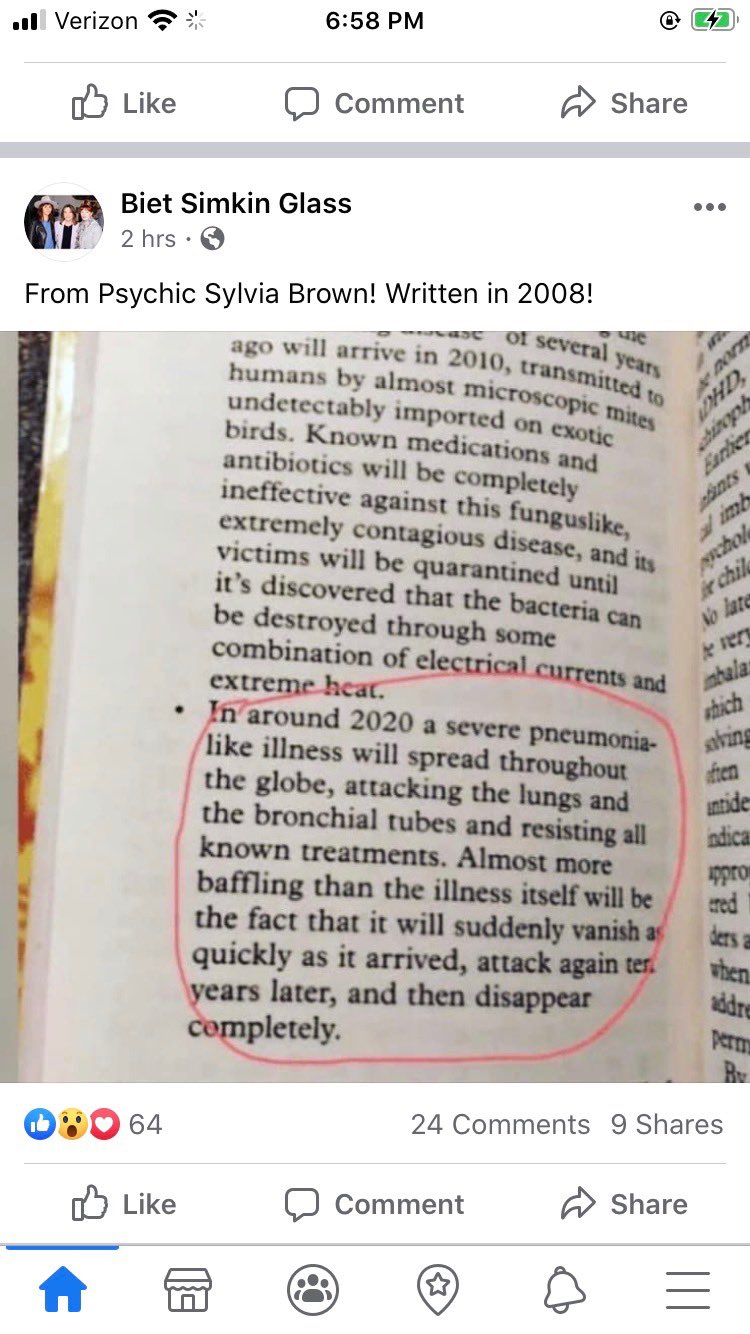 Whether you're social-distancing or self-quarantining, your favorite episodes of Keeping Up with the Kardashians can be found on Hulu and other streaming services. 
Latest posts by Samantha Lierer
(see all)